Friday Night Live II

« Back to Events
This event has passed.
Event:

Friday Night Live II

Start:

October 12, 2012 8:00 pm

End:

October 12, 2012 10:00 pm

Cost:

Free

Category:

Organizer:

Phone:

717-233-4223

Email:

Updated:

September 7, 2012
Venue:

Harrisburg Forum

Address:
Google Map

500 Walnut St.

,

Harrisburg, PA

,

17101

,

United States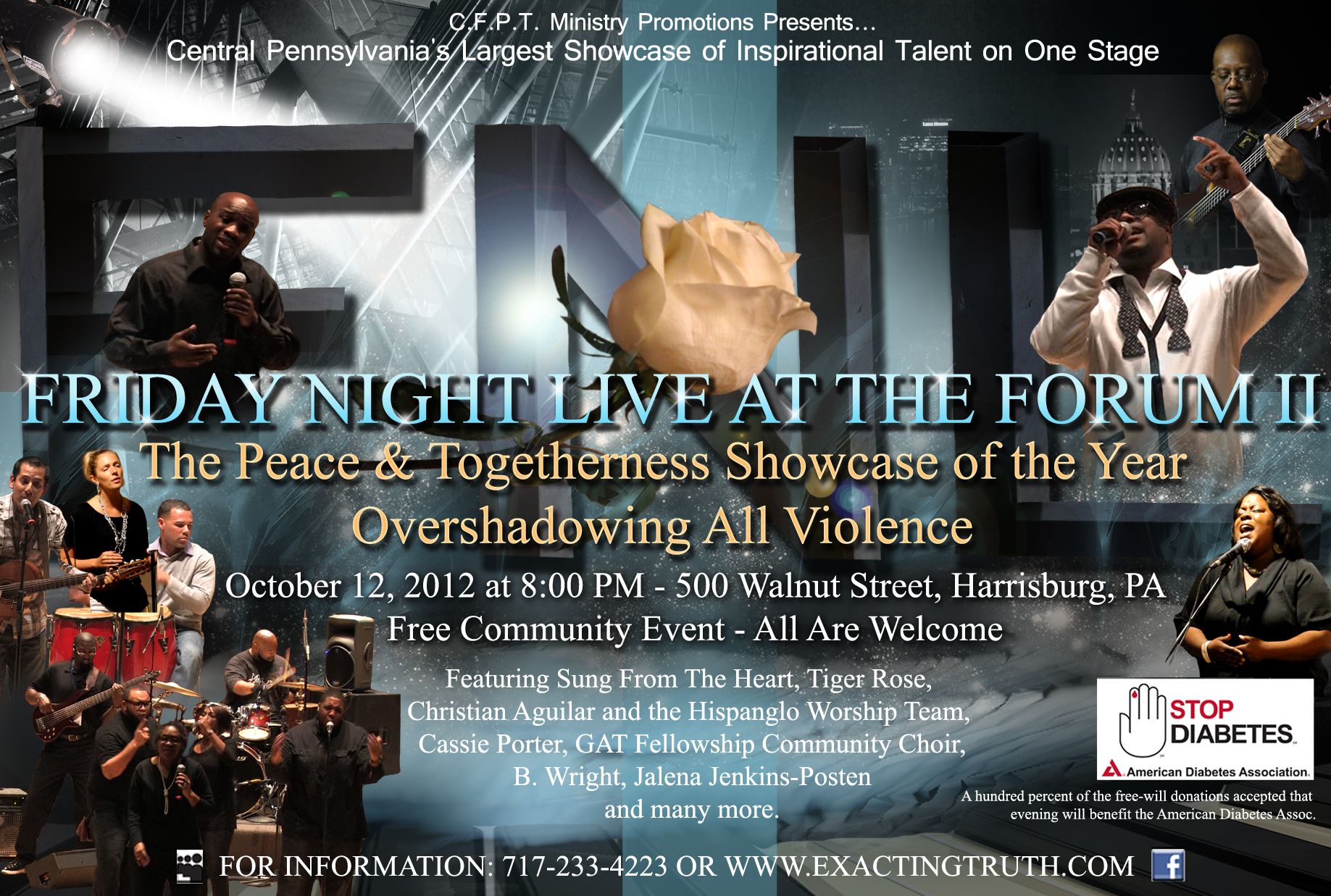 On Friday, October 12, 2012 at 8:00 p.m., CFPT Ministry Promotions and the American Diabetes Association of Central PA present "Friday Night Live at the Forum II, The Peace and Togetherness Showcase of the Year Overshadowing All Violence." The free concert event will feature Central Pennsylvania's largest showcase of inspirational talent on one stage.  A cross-cultural tribute to lives lost through violence in Harrisburg and surrounding communities will take place on this evening.  In a semblance of peace, white roses will be laid on the stage by surviving family members, as a visual presentation showing the universal effect of violence plays in the backdrop.
Performers for the evening include Sung From the Heart, Christian Aguilar and the Hispanglo Worship Team, GAT Fellowship Community Choir, Hip-Hop Artist B-Wright, Poet Tiger Rose, Cassie Porter, Jalena Jenkins-Posten, Jeret Pinckney, and many more.  The concert will be held at the Forum, 500 Walnut Street in downtown Harrisburg.  There is no admission charge for the concert.  A hundred percent of the proceeds collected that evening will be donated to the American Diabetes Association.
For more information call 717-233-4223 or log onto www.cfptministrypromotions.com.
This event is sponsored in part by C.F.P.T. Ministry Promotions, Tri-State Recyclers, and Hoffman Ford