Events for May 31, 2014
Day Navigation
Ongoing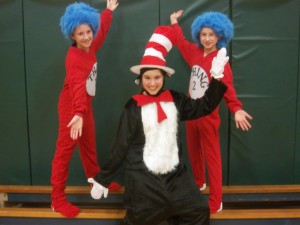 istage production of Seussical Jr on May 29th, 30th & 31st at 7PM at Manheim Central Middle School.  Youth theater featuring 54 students from the area.  Show synapsis: Transporting audiences from the Jungle of Nool to the Circus McGurkus, the Cat in the Hat, our narrator, tells the story of Horton, an elephant who discovers
more »
Find out more »
The Wonder of Hope with Illusionist Brett A Myers on Fri. May 30th and Sat. May 31st at 7PM at The Junction Center Tent in Manheim. Take your entire family on a journey of laughter and amazement as you experience the illusions of Brett A. Myers. This full theatrical production combines special effects, live animals,
more »
Find out more »
7:00 am
The Beauty of Possibility Speaker & Prayer Breakfast on May 31st and June 1st at 7:00AM at St. James Catholic Church. Ryan Bomberger (from the family that owns Bomberger's Store) will share his incredible story of adoption and talk about God's greatest miracle….YOU!  Ryan has a rather unique perspective on the nature of Purpose.  
more »
Find out more »
Living Hope Community Church 2823 Columbia Ave. Lancaster, is holding their Annual Community Yard Sale.  Saturday, May 31 from 7-2.  Cheeseburgers, hot dogs, baked goods, drinks available for purchase.  Table/space still available.   To reserve a table, call 394-1500.  Proceeds support our summer 2014 missions trips.
Find out more »
8:00 am
Huge Indoor Church Yard Sale at Grace Fellowship located just 3 miles South of Route 30 on Route 616. The yard sale will be held on Thursday, May 29 from 8am to 8pm, Friday, May 30 from 8am to 4pm and on Saturday, May 31 from 8am to 12pm. There are books, toys, home décor,
more »
Find out more »
St. Paul's ECC Community Yard Sale and Swap Meet on Saturday, May 31, 2014 Application is due to the Church Office by Tuesday, May 27, 2014 Proceeds to benefit St. Paul's Mission Trip Fund The Community Yard Sale and Swap Meet will be from 7:00 a.m. to noon. Set-up will begin at 6:00am on Saturday.
more »
Find out more »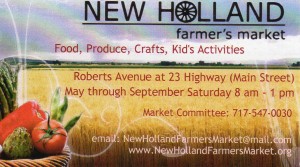 New Holland Farmers Market every Saturday from 8AM-1PM with homemade crafts booths, entertainment for children, produce booths and prepared food.  http://newhollandfarmersmarket.org/
Find out more »
10:00 am
6:00 pm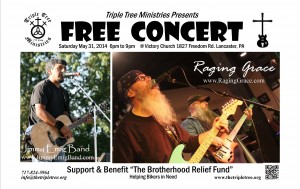 Triple Tree Ministries is hosting a free concert at Victory Church this Saturday Night, May 31st, at 6pm to help benefit the "Brotherhood Relief Fund." Artists to be featured include the Jimmy Emig Band and Raging Grace. All are invited, so head on out to Victory Church this Saturday and enjoy some great music! Bikers
more »
Find out more »
6:30 pm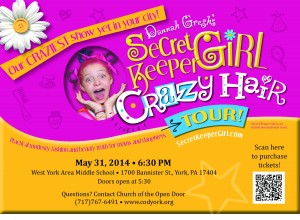 It's normal for a girl to be boy-crazy and be obsessed with fashion and beauty, but those crowd-pleasing choices have risks. So, let's get crazy! The Secret Keeper Girl Crazy Hair Tour helps moms cultivate God-crazy daughters who embrace inner beauty, biblical modesty, and vibrant purity. May 31st – 6:30 PM – at the West
more »
Find out more »
+ Export Day's Events