Events for August 16, 2014
Day Navigation
All Day
Learn to reach family and friends with Christ.  No theory.  No guessing.  Learn from women and men proven to be effective in evangelism. Friday August 22, 2014 (7:00pm – 9pm) Saturday August 23, 2014 (8:30am – 1pm) Baughman United Methodist Church 228 Bridge Street New Cumberland, PA 17070 717-774-2005 Registration includes: snacks (Fri.)(Registration/fellowship@6:30pm) and breakfast
more »
Find out more »
The community is invited to join in the food, fun and fellowship at an over 100 year old Penryn tradition.  The annual church picnic will be held on Saturday, August 16 in the church picnic grove off Penryn Rd in Penryn, PA.  Carry out chicken corn soup will be available in the morning (bring your
more »
Find out more »
Ongoing
Perspectives on the World Christian Movement at Calvary Church in Lancaster from Aug. 18th – Dec. 8th.  Perspectives helps believers from all walks of life see how they can get threaded into God's story of redeeming people from every tribe, tongue, and nation to Himself. From Genesis to the prophets, Jesus Christ to the early
more »
Find out more »
8:00 am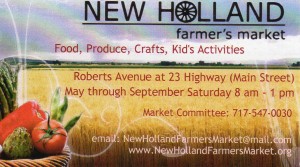 New Holland Farmers Market every Saturday from 8AM-1PM with homemade crafts booths, entertainment for children, produce booths and prepared food.  http://newhollandfarmersmarket.org/
Find out more »
8:30 am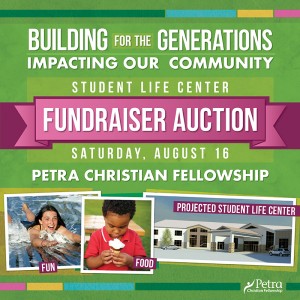 Petra Christian Fellowship's Fundraiser Auction will "have it all" – food, fun, and lots of good stuff to bid on. The auction starts at 9:30 a.m. and the chicken BBQ at 10 on Aug. 16th. Water activities for children will run from 10 a.m. to 1 p.m., with volleyball, ultimate Frisbee, and ga-ga ball for
more »
Find out more »
9:00 am
9:30 am
Touch A Truck on Aug. 16th from 9:30AM-Noon at Colonial Park Community Baptist Church.  This event is an interactive hands-on experience for the children in our community to see, touch, and explore a variety of working trucks and vehicles they see in everyday life up close and personal. There will be a tow truck ,
more »
Find out more »
9:45 am
Curators' club is a science program for children in grades 3-5 at The Oakes Museum on Aug. 16th from 9:45AM-Noon. This week's topic is What's in the Water? Assessing the Yellow Breeches. Curator Club members receive an annual membership card for free admission to The Oakes Museum, a certificate for 3 children's admissions, and a
more »
Find out more »
10:00 am
Unite to Restore America on Aug. 16th at The Giant Center from 10AM-10PM.  Pennsylvania, the Keystone State, has a vital role in America's future.  William Penn called it the Seed of a Nation.  Healing Tree International is calling believers to unite in Hershey, PA to receive equipping to restore families & turn our nation back
more »
Find out more »
The Harrisburg Area Homeschoolers Association is pleased to announce their 7th Annual Back to School Fair on Aug. 16th from 10AM-1PM at Christian Life Assembly. The day will include exhibitors, vendors, used curriculum sale, kid's activities, and workshops. Be sure to bring the whole family!  www.hahaofpa.org
Find out more »
There will be a Back To School Fun Day held at Winterstown United Methodist Church at 12184 Winterstown Road, Winterstown, PA from 10am-1pm on Saturday, August 16, 2014. This is the third year for this FREE community event and is open to everyone. There will be inflatable rides, games, wagon rides, face painting and food.
more »
Find out more »
10:30 am
This Saturday, Aug. 16th from 10:30 to 3:00 The Sound is having a donations only car wash at Apostoslic Church Ministries. Come support your local youth group. Proceeds go towards activities, camp, and a Sheaves for Christ donation. Sheaves for Christ is a youth funded evangelism service. We help provide them with transportation and materials to share the
more »
Find out more »
11:00 am
GBC Fun Fair on Aug. 16th from 11AM-7PM at Grace Baptist Church in York.  Enjoy outside activities: Bounce Houses – Dunk Tank – Crafts – Balloon Twisting – Face Painting Tug of War – Kickball – Minute to Win It, Pie Eating Contest Homemade Desserts / Snow Cones / Old Fashioned Popcorn — for a
more »
Find out more »
12:00 pm
Kid'z Olympic Day on Aug. 16th from Noon-8PM.  Enjoy a day of fun, food, snacks, drinks, music, games, prizes and more at the Buchanan Park, between Buchanan and Race Ave, Lancaster, 17603. Play games like Wheel Barrel Race, Tug of War, Softball Toss and more. Tickets can be purchased at Shop.Ghettotainmentllc.com or call Shatoya Taylor
more »
Find out more »
3:00 pm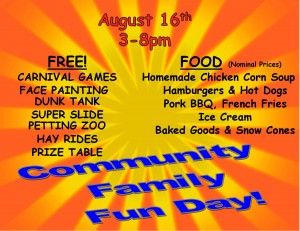 Community Family Fun Day on Aug. 16th and Aug. 17th from 3-8PM at Christ UM Church Yorkana.  Great event for families! Games, Food and Entertainment. Our church's way of giving back to our community. www.cumcy.org
Find out more »
4:00 pm
Praise Community Church is hosting Community Day for young and old alike on Aug. 16th from 4-9PM.  There will be food, DJ, games, arts and crafts.  Vote for the best chili and wings.  Puppet show will be from 5pm to 6pm.  A free family movie between 7pm – 9 pm.
Find out more »
6:00 pm
Coffee House Ministries is a Christ-centered Coffee House and Ministry of New Birth New Life Ministries in York. Services are held the 1st and 3rd Sunday of each month from 6-8 pm. Come enjoy Great Food, Coffee, Powerful Testimonies, fellowship, and music, featuring the band Ransomed Souls! For more information, visit http://coffeehouseministries.org/.
Find out more »
Free showing of HOME RUN the movie on Aug. 16th and 17th at 6pm at York Christian Church.
Find out more »
7:00 pm
An Evening of Southern Gospel with Mark Bishop on Sat. Aug. 16th at 7PM at The Junction Center Tent in Manheim.  http://www.thejunctioncenter.com/ or 717-459-3701
Find out more »
The Jacobs Brothers wrap up the season in song at Fivepointville Bible Conference in eastern Lancaster County. The concert will be held rain or shine in the enclosed tabernacle, Saturday August 16th at 7pm at 533 Chapel Lane, off Rt. 897 behind the Fivepointville Fire Company. This is a freewill offering event.  For directions and
more »
Find out more »
+ Export Day's Events