Ann D'Alessandro –
With all this snow that we have had, it will make great conditions for The Cardboard Derby THIS Sunday, Jan. 26th!  The Cardboard Derby at Roundtop Mountain Resort is always a Winter highlight around here!  We will be there all day and hope to see you!  You still have time to get a team together and make a wonderful cardboard vessel that will hopefully slide you down the snow tubing hill to victory!  This year's theme is "Candy Rush" so we can't wait to see your creativity at work!  Check-in begins at 3:00 pm, judging at 4:00 pm.  Teams build crazy cardboard creations and ride them down the tubing runs.  Adult and youth divisions. You can register on Sunday if you haven't already.
Find all the details at https://www.skiroundtop.com/events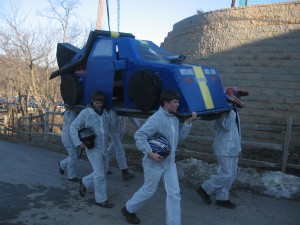 Ann D'Alessandro – Bundle Up & Remember To Wear Your Helmet!
ann@wjtl.com