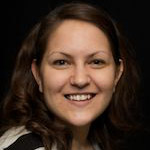 Is this really goodbye??
ASHLEA BRENEMAN – It was just about six years ago that I sat in Fred McNaughton's office and interviewed about becoming an intern at WJTL. Wow, a lot has happened since. I've been an official employee at WJTL for almost 5 and a half years. Prior to working at WJTL, the longest I held a job for was four months. That is either a testimony to my need for variety or to what an incredible place WJTL is. I think it's the latter.
We talk a lot about community on the air and how we are building a community of believers through the music we play, the guests we have on the air, our website and the events we take part in. That community is possible because we've started it here with the staff. They might just be the voices you hear on the radio, but to me they are dear friends.
I will miss taking part in the everyday craziness at the WJTL office but I am starting a new craziness of my own. I will be attending a school through Youth With A Mission called Fire and Fragrance this January. We are living in incredibly exciting times. God's Kingdom is advancing like never before and we get to be a part of it. I've thoroughly enjoyed this journey, but a new one awaits me.
Thanks for welcoming me to the family known as WJTL. It really is a special thing.
Ashlea Breneman