Seventh Day Slumber just released their new CD, "Love & Worship" on BEC Recordings!  Keep listening to WJTL to hear their new song "I Am Not The Same", which they co-wrote with Matt Redman.  Some of the best worship songs have been born from someone sitting down with a guitar and writing a song inspired by God.  We're celebrating Seventh Day Slumber's new music this week with a special contest.  We'll give away the brand new "Love & Worship" CD all week.  If you call in and win one, you'll automatically be entered into the drawing for the grand prize: a Jasmine S35 acoustic guitar, autographed by Seventh Day Slumber!  Keep our number handy: 717-392-3690 (FM90)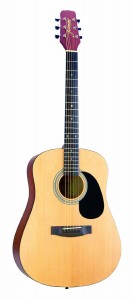 Rules, etc.:
*You must not have won from WJTL in the past 30 days in order to be eligible to win.
*Only one winner per household in this contest!
*Comments left on this blog do not count as entries into this contest.
*The grand prize winner will be announced on Friday morning, March 22, on the Get Up & Go Show.  (Winner will also be contacted directly by WJTL.)
*See WJTL's general contest rules here.
Categories:
News, Promo
BEC, bec recordings, Christian Music, contest, guitar, i am not the same, jasmine, love and worship, matt redman, new music, News, Prize, rock, seventh day slumber, takamine, worship