Change of Pace Women's Bible Study Fall 2022
September 29, 2022 @ 9:00 am

-

11:30 am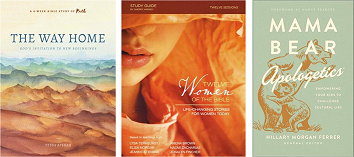 Change of Pace Central Women's Bible Studies
Fall 2022 Session begins September 29, 2022
Location: Lancaster Alliance Church at 210 Pitney Road Lancaster, PA 17601
Date: Thursdays, September 29 – November 17, 2022
Time: 9:00-11:30 am
Books will be available for purchase on the first day of our study at L.A.C.
Childcare provided, homeschoolers welcome. A freewill offering will be taken weekly. Come and enjoy our sisterhood of great local women of faith who desire to grow and be renewed in our faith.
3 inspiring studies to choose from! Please pre-register to help us ensure that we have enough books and supplies for everyone attending. Thank you!
1. "The Way Home: God's Invitation to New Beginnings" by Tessa Afshar explores the life of Ruth. Discover how the grace of God can turn pain and loss into hope and redemption just like God did for Ruth, Naomi, and Boaz. You too can embark on a journey that unlocks the door to your future…a future of healing. Suggested book price: $13.00
2. "Twelve Women of the Bible: Life-Changing Stories for Women Today" by Sherry Harney. Learn about the triumphs and failures of real women with real faith! These amazing women are absolutely real as recorded in God's holy word. Each has a story to tell. You will not want to miss how they overcame rejection and insecurity to find contentment in every situation. Suggested book price: $10.00
3. "Mama Bear Apologetics: Empowering Your Kids to Challenge Cultural Lies" by Hillary Morgan Ferrer. Calling all mamas! Come and learn how to empower your children to challenge cultural lies…examine more thoroughly the issues facing your children and analyze them from biblical and non-biblical viewpoints with truth, love, kindness, and respect. Join other mothers and "roar like a mother"! Raise your voice to protect your children. Suggested book price: $11.00
In addition to our fantastic studies our prayer warriors will meet in Prayer Group – Praise and prayer requests of our COPC women are brought before the throne of grace. Come and pray with us.
Evening study option available: "The Way Home: God's Invitation to New Beginnings" by Tessa Afshar exploring the life of Ruth, will be offered Thursday evenings, Sept 29 – Nov 17. starting at 7:00 pm, at Conestoga Church of the Brethren located at: 141 East Main Street, Leola, PA 17540. No childcare provided for evening study. Please contact Juanita for more information at jjcassel6@gmail.com
~~~~~~~~~~~~~~~~~~
Change of Pace Central is a non-denominational women's bible study, sponsored by Friendship Foundation, Inc. For more information, please visit our website or find us on Facebook.
Website: https://changeofpacecentral.webs.com/
Find us on Facebook at: https://www.facebook.com/COPCBibleStudies
To pre-register Reply to this email or call Jessica at 717-519-5220
~~~~~~~~~~~~~~~~~
Looking for more options? Check out our sister group – Change of Pace South in New Providence, PA
They will be offering the bible study "Acts: Feasting on the Abundance of God's Word" by Kristy Cambron on Wednesdays, beginning Sept. 21, 2022.
For more information go to their website at: https://www.copsouth.com/