Heritage Day and Car Show at The Star Barn Village
October 11 @ 11:00 am

-

3:00 pm

$8 – $25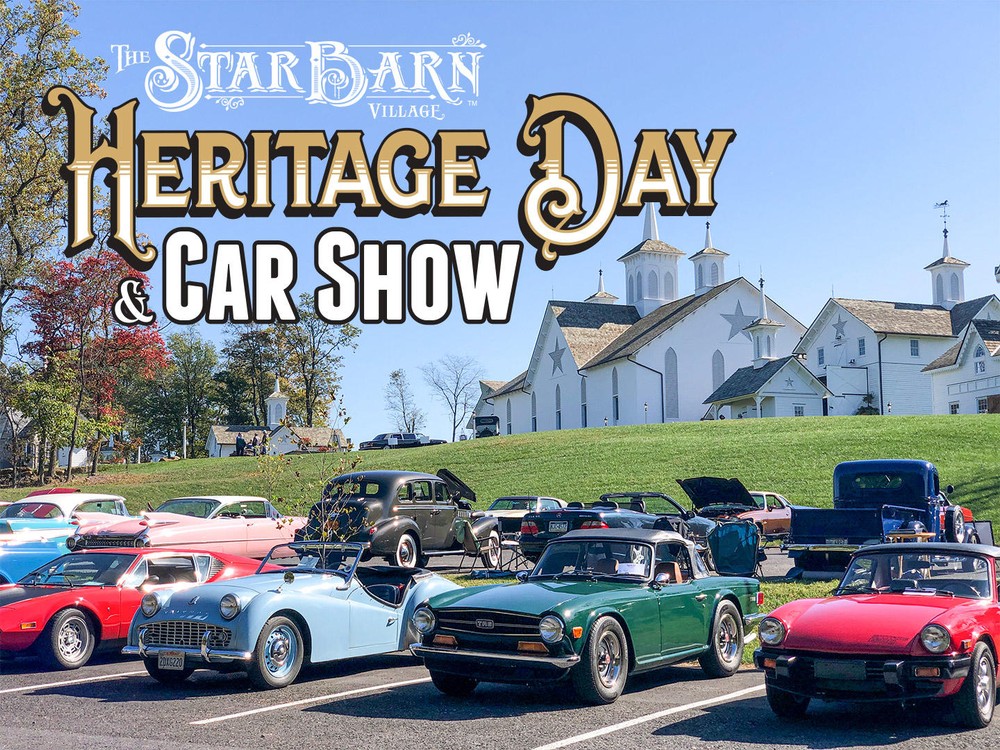 Heritage Day and Car Show at The Star Barn Village
Monday, October 11, 2021
11:00 a.m. – 3:00 p.m.
Calling all car enthusiasts! Enjoy an outing at the beautiful and historic 275-acre Stone Gables Estate and see a variety of makes, models, and years of cars and trucks on display. Many are classics that have been lovingly restored while others may be newer models. Take time to walk the property, enjoy concession foods, and ride the train, but most of all, have fun with your family and meet new friends.
Event Highlights:
• See over 120 unique and classic cars and trucks on display.
• Drive through the restored 1844 Herr's Mill Covered Bridge.
• Tour The Star Barn Village, Ironstone Ranch, Reflective Oaks Prayer Walk, gardens, and Star Barn Museum and Art Gallery.
• Enjoy family fun and yard games, including face painting, pumpkin bowling, and pumpkin painting for kids and kids at heart.
• Watch a documentary about the monumental move and restoration of the iconic 1877 Star Barn.
• Visit The Shepherd's Staff Petting Zoo and see alpacas, miniature donkeys, a miniature pony, and a pot-bellied pig.
• Enjoy tractor-pulled wagon shuttle rides to and from the train and Ironstone Ranch.
• Use one of our firepits to make s'mores.
• Take advantage of family photo opportunities!
• And more . . .
Add a train ride experience to your day.
• Enjoy a one-of-a-kind 1.2-mile, round-trip narrated train excursion through the center of Stone Gables Estate on the Harrisburg, Lincoln & Lancaster Railroad, traversing the original 1838 railroad bed on which President Lincoln's funeral train traveled on April 22, 1865. Now featuring an all-new Engine House and Lincoln Museum Experience!
• Purchase train tickets at the event. Train tickets may be purchased at the train site on the day of the event: $15 (adults); $8 (ages 3 – 17); Ages 2 and under: free. Note: Seating for lap children/toddlers is one per parent. Ride times: Every hour, from 11:15 a.m. to 2:15 p.m. Two spaces are available on the Combine Coach for wheelchairs. Please contact us for more details about ADA accessibility.
The following activities are available for purchase or have items for purchase:
• Food concessions.
• Uncle Jerry's Kettle Corn (regular popcorn, kettle corn, and caramel corn).
• Craft beer by Cox Brewing Company.
• Souvenirs and gifts at The Sower and The Seed Shoppe.
• Pony rides for kids.
• Steam cream ice cream – watch it being made the old-fashioned way.
• Horse-pulled hitch wagon rides guided by our two Belgian draft horses.
• Lodging may be available during the event. Please call 717.902.9791, Option 5, for information and to make a reservation. Bookings include complimentary general admission tickets to the Car Show event.
Show Off Your Wheels!
Registration is free to Car Show participants, and all makes and models of vehicles are welcome! For more information and to register online, please go to: https://stonegablesestate.com/car-registration/. Space is limited. Registration ends Wednesday, October 6, at 5:00 p.m.
——————————-
General Admission Entrance: Brittany's Hope, 1160 North Market Street, Elizabethtown, Pennsylvania. Watch for signage. All are welcome!
Entrance fees – purchase online and save!
• $25 per vehicle for online tickets (up to 8 passengers); $30 at the gate
• $40 per large vehicle for online tickets (9 – 15 passengers); $50 at the gate
• $100 per oversized vehicle for online tickets (16 – 23 passengers); $110 at the gate
• Larger vehicles and buses: Please call 717.902.9791, Option 4, for pricing and reservations.
For more information and to order tickets, visit https://stonegablesestate.com/event-calendar/. Scroll down to the "Heritage Day and Car Show at The Star Barn Village" banner and click on the "Purchase Tickets Now!" button.