Hope Within Community Health, Counseling & Dental Center Nolt's chicken BBQ Fundraiser
August 13 @ 11:00 am

-

1:00 pm

$13.00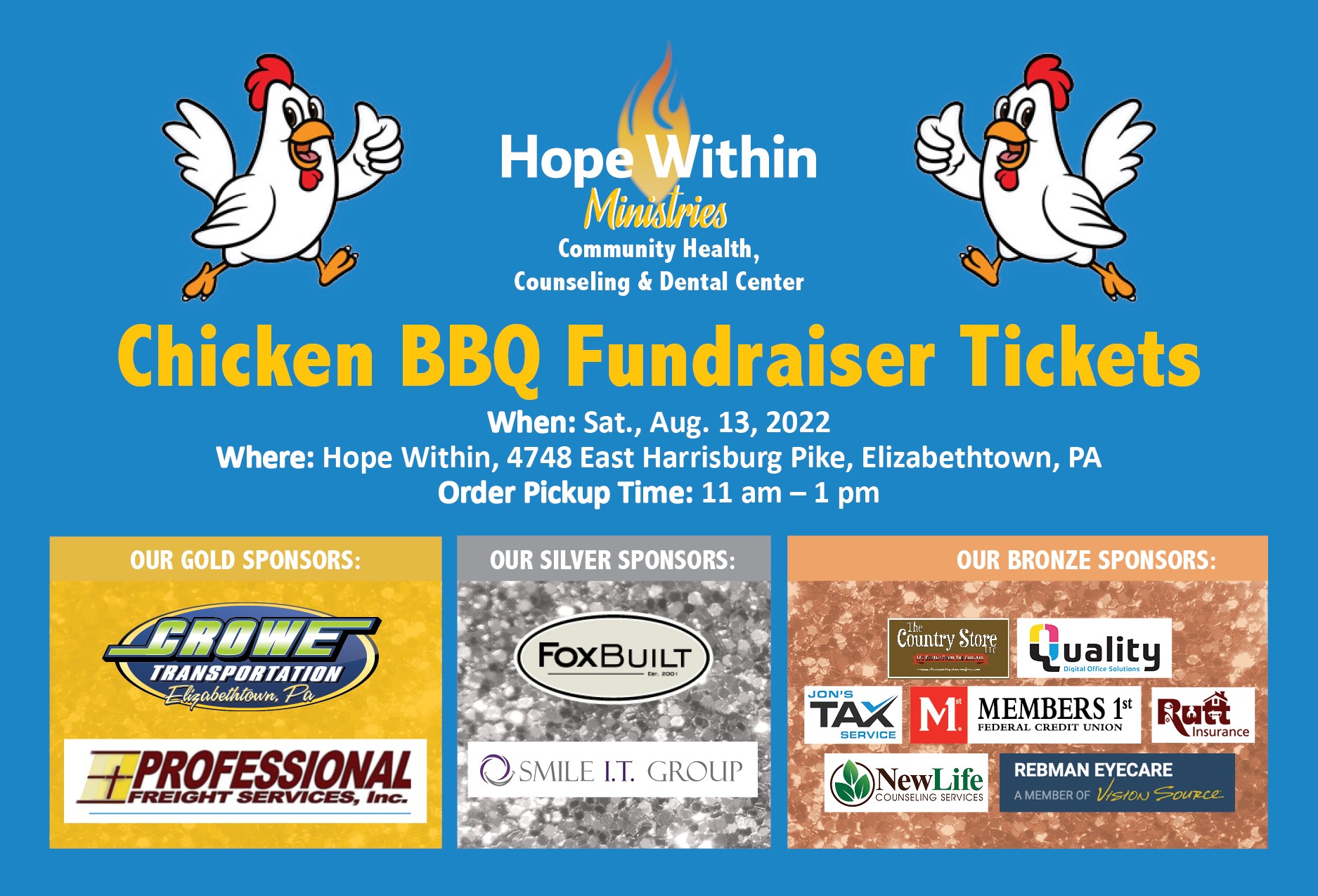 Hope Within Community Health, Counseling & Dental Center is hosting a Nolt's chicken BBQ Fundraiser on Saturday, August 13 from 11-1 to help fund our services. The meal costs 13.00 and includes half a chicken, baked potato, roll, apple sauce and a drink. Tickets (pre orders only) can be purchased by following
https://app.etapestry.com/onlineforms/HopeWithinMinistries/BBQ2022Aug-13.html?fbclid=IwAR0Drtkdtl0DVMB326rWwZ-5tlJsgPbCxqy_rXiU6sSUO3pEo9AgRKEG2T8 , physical tickets are available for purchase at the Hope Within clinic.
An example of a life changed is Cody, a recent dental patient. Cody's front teeth were broken, causing him severe pain. In order to cope with his pain he was taking large and dangerous doses of Tylenol. As a result his liver failed and his kidneys were in the process of failing and he had to be admitted to the hospital. Praise God, he was able to recover, but the only option remaining according to the dentists that he had seen was for him to have the broken teeth pulled, which he could not afford to do (small mercy). When he came to Hope Within for his dental appointment, he believed that he was going to get his teeth extracted, but our precious dentist, Elena Guk, thought that she might be able to restore them. The result of her efforts and the depth of her compassion is revealed by his lovely smile; Dr. Guk went above and beyond to make this miracle happen. Cody believes that Dr. Guk is a "miracle worker", if that is true the true miracle was made possible by our Creator through His gift to her hands. His final words to us that day were "I am able to smile again".
Hope Within is located in Elizabethtown and offers primary health care, dental care and counseling services to uninsured individuals who fall 250% below the federal poverty line and live in Lancaster, Dauphin or Lebanon County. A base of over 30 medical, dental, and counselors volunteer to their time to provide services. It is through individual donations and fundraisers like our upcoming Nolt's chicken BBQ that we are able to offer our services. To learn more about Hope Within, visit www.hopewithin.org