MLK Day of Service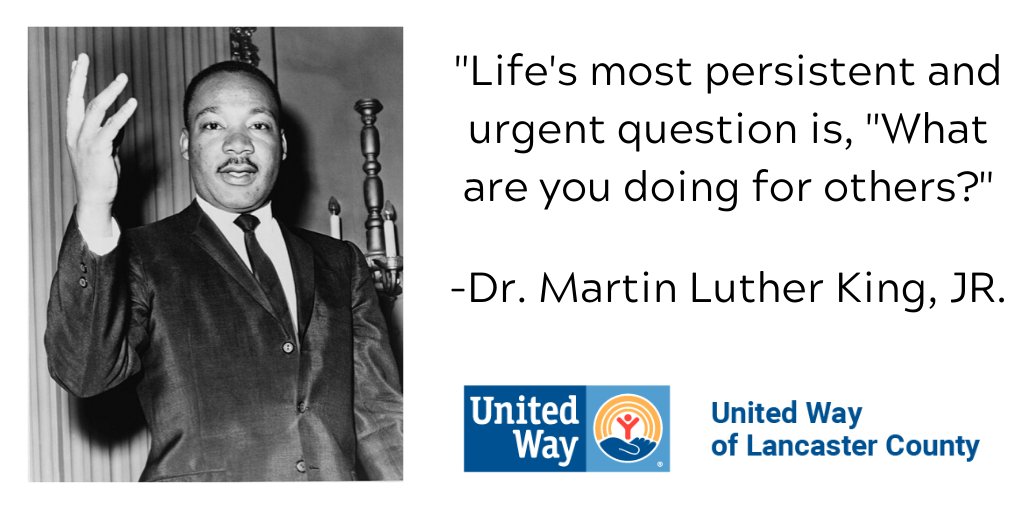 The universal messages of justice, democracy, hope, love, and selflessness that Dr. Martin Luther King Jr. preached continue to inspire and move people today. As his legacy lives on, we encourage you to answer Dr. King's call to service by participating in the MLK Day of Service. January 20, 2020 will mark the 25th anniversary of celebrating Dr. King's birthday and commemorating his life and legacy through community service.
Partner with United Way in a day of service where community-minded individuals, like you, can donate time, talent, and energies to complete volunteer projects benefiting nonprofit organizations and school districts throughout the county. Working together, businesses, organizations, and volunteers can lend your muscle to make a difference in Lancaster County.
In the words of Dr. King, "An individual has not started living fully until they can rise above the narrow confines of individualistic concerns to the broader concerns of humanity." So make this a day on, not a day off and join us as we celebrate the spirit of volunteerism in Lancaster County by engaging in meaningful volunteer activities to benefit human service agencies and people in need.
Please contact Audrey at Lilley@UWLanc.org or 717-824-8122 for more details or follow the link below to register…
https://uwlanc.galaxydigital.com/aem/general/event/?doc_id=5738