 Intern Sandra Out and About: Christmas in July
Merry Christmas! Intern Sandra here, and yes, I know that Christmas is still five months away.
The Reformation Luthern Church is having a Christmas in July event this Sunday the 28th to remind us that the miracle of Christmas is amazing in any season.  I stopped by this morning to talk to Pastor Luke, the Reformation Luthern Pastor, Mimi, the program coordinator, and Ray, a member of the evangelism committee about the event.  They all share my love for classic Christmas hymns, and I was excited to hear that the program features many hymns sung with a full choir, and even a former singer with the Metropolitan Opera!  Mimi brought up a good point; so often we only get to sing a few Christmas hymns, but at this event so many classic hymns will be sung (and played) in exciting arrangements with many voices.  Pastor Luke shared his passion for returning to the fundamentals of Christmas without the inevitable craziness that comes with the December holiday season. He'll be delivering reflections throughout the evening that focus us on the miracle of Christmas, and the importance of it to our faith.
Ray told me a little more about the other activities featured in the event, including crafts for kids, a nativity collection, and more. There might even be a chance of snow!  The event sounds like a great time to celebrate the true meaning of Christmas, and enjoy fellowship without the commercial aspect of the season.  Ray, Mimi, and Paster Luke were all enthusiastic about this twist on Christmas in July, and I had so much fun discussion the holiday season with them.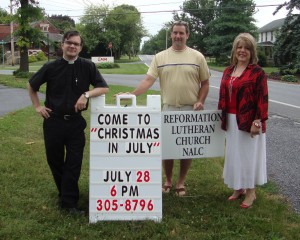 The Christmas in July event will be held Sunday, July 28th at the Eastern Mennonite Missions building in Salunga, PA. For more information, visit reformation-nalc.org, or the events page at WJTL.com.