 Share The Blessing
Ann D'Alessandro
Do you know a family in need this holiday season? A colleague facing loss?  A friend battling an illness? A neighbor in crisis?
Reach out, and share their story.
Help Susquehanna Valley families enjoy the holiday season with hope and dignity.   Together, we can Share the Blessing…  You can visit the website and nominate a family in need or make a contribution to help families and individuals who are selected.  Share the Blessing's board of directors will review all nominations and contact the family in need to help meet their individual needs. Thank you!
*Representatives will be on the Get Up & Go Show on Thursday from 7am-8am to talk about Share The Blessing.
Share The Blessing is an approved 501C-3 charitable organization.
http://www.sharetheblessing.com/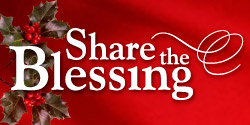 Ann D'Alessandro – Wishing You A Very Merry  Christmas!
ann@wjtl.com