 Spotting All Stickers!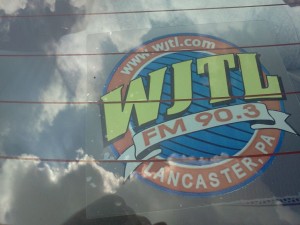 As you might have seen on the WJTL Facebook page, listeners are not just sending in pictures of their new bumper stickers.  There are a few pictures of longtime listeners' bumper stickers which feature the old logo.  It is really cool to see the different stickers because it shows how different each listener is.  It shows their personality.  Some people started listening since they moved into the area and others have been listening since they were children.
Did you know that we are spotting Kids Cookie Break Stickers too?  Show off how much you love the Kids Cookie Break by positioning a KCB sticker on your bumper or on your window.  You could also affix a KCB magnet to your car to preserve the paint.  Once you have done that, don't forget to send us a picture for a chance to win!
You can win with any of the WJTL bumper stickers including the Kids Cookie Break Sticker and the 90.3 Sticker.  We know you love the iconic retro WJTL sticker; let us know you have one and we'll be happy to send you a shiny new one to put next to it.
In fact, we'd be happy to send you any of the WJTL stickers to give your vehicle even more personality.  So whether you have been listening since you were young or only just picked up our broadcast, email interns@wjtl.com to get your WJTL bumper sticker today and send it in to win!