 Intern Sandra Out and About: Weaverland Day Camp
Intern Sandra here! I'm back from Creation and getting back into the daily swing of things.
Today I resumed my Out and About schedule by visiting the Weaverland Day Camp.  The kids asked me questions about how the radio works, and what it's like to be an intern.  They really picked my brain, asking me everything from who my favorite WJTL artist is to how we pick the music to play on air.  I had a blast visiting with them and handing out some Kids Cookie Break goodies!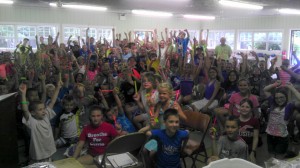 Be sure to stay tuned in on Thursday mornings for more of my adventures Out and About!