 Bumper Sticker Bonanza 2013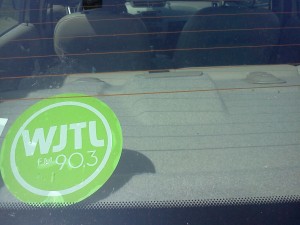 There are two ways to win in WJTL's Bumper Sticker Bonanza this year. You send a picture of your WJTL Bumper Sticker to us!  That's right, send it in to win!  Or If you are spotted by any of WJTL's staff you will be a winner too! Get your sticker at any of WJTL's live events or request one to be mailed to you by emailing interns@wjtl.com or call the station at (717).392.3690.  Winners will be announced on air and posted on Facebook.  So listen live and keep checking our Facebook page!
Entries Must Include:
A picture of your WJTL bumper sticker on your vehicle emailed to interns@wjtl.com
Your name, address, phone number and your email address
Contest Rules:
One entry per person/vehicle
Comments left on this blog DO NOT count as entries into the contest
With prizes like Maggie Moo's, YoFro, Twin Kiss and Sweet Frog gift certificates, and a WJTL cinch pack from DavCo as well as CDs and DVDs from our prize stash (The Real Life, Jenny Simmons, North Point, Hawk Nelson, Mars Hill, or Sanctus Real) and other great prizes, winners are sure to keep cool all summer long!