 Bumper Sticker Bonanza 2014!
INTERN KRISTIN – The WJTL Bumper Sticker Contest is taking place once again this summer! If the WJTL interns spot a WJTL bumper sticker on your vehicle, you could win some great prizes including gift certificates for ice cream in the local listening area, as well as CDs and DVDs from our prize stash. So how do you get your hands on a sticker for the chance to win? Just email us at interns@wjtl.com and tell us that you want a bumper sticker or a static sticker, and include your address so that we can send one right to you. Or, you can pick up a sticker for yourself at our table at any WJTL event. Once your WJTL bumper sticker is on your vehicle, you can wait for us to spot them OR you can send a picture of the sticker on your car right to us to put yourself in the running!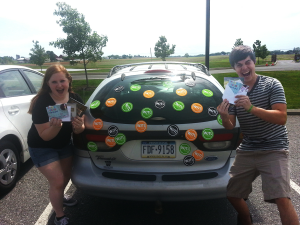 Entries Must Include:
A picture of your WJTL bumper sticker or static sticker on your vehicle emailed to interns@wjtl.com
Your name, address, phone number and your email address
*One entry per person/vehicle
The contest is happening all summer long, so get a WJTL bumper sticker on your car and join in the fun and have the chance to win some great prizes!