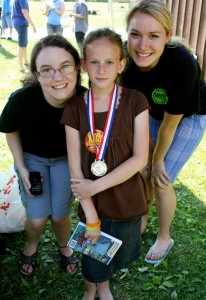 This fall I will be a senior at Millersville University and since graduation is really not that far down the road anymore its time to start thinking about what I really want to do upon graduation. Since I am majoring in Broadcasting communications and have the opportunity to do an internship, WJTL seemed like a good choice to get my first experience in radio and I'm  most certainly glad I did.
My internship began at a WJTL live remote at the end of May at the Sertoma Chicken BBQ. I worked at the merchandise table greeting all of you who were excited to watch the talent challenge and cheer on friends and families. Meeting some of you WJTL listeners and hearing your stories made me realize that I was about to be apart of something great and that this summer was bound to be a journey of new experiences and opportunities.
Here at the station I have been working alongside John Shirk, learning the boards and discovering everything that happens behind the scenes  from when a DJ prepares to go on air to the performance end of live radio, and even editing. I am even getting the opportunity to DJ a Sunday afternoon shift. I have been able to go to remotes such as the Lancaster Barnstormers, where I helped set up the sound system for the Steven Courtney Band and Phredd, and I assisted Lisa Landis at Camp Swatara for the Kid's Cookie Break where we handed out plenty of chocolate chip cookies and even held a bubble gum contest to see who can blow the biggest bubble. As you can tell we have a lot of fun at these live remotes.
Here at the station I've been able to watch Phil Keaggy perform and am looking forward to performances from other artists who will eventually perform at the Junction Center. In addition to learning the technical aspects of radio, here at the station its safe to say that I have done a little bit of everything, from pulling weeds, to working in the mail room, to giving the WJTL vehicles a good wash, to preparing for live remotes, grocery shopping for the station, and bumper sticker spotting of course.  All of it has been a good experience! The staff here is so supportive and fun to work with! You can feel God's presence here and its exciting to see what God is doing through WJTL and will continue to do through their ministry. I couldn't have asked for a better internship. I am extremely blessed to have such a great place in the area to learn from about the world of radio.