EDDIE DANIELS – It's probably wrong of me to assume it was Lisa Landis who left this mystery food in the WJTL refrigerator. But since she's on vacation this week and not here to defend herself, I'm going to do it anyhow.
Lisa is my prime suspect mostly because she has a history of bringing in random food items such as the one(s) pictured below. The only other person who uses the fridge on a regular basis is John, but he's very good at making his usual sandwich, banana, and yogurt disappear during the lunch hour.
But my biggest concern isn't who left these weird deep-red mystery items in an unsealed plastic bag. My concern is what are they? I haven't bothered to smell them because I'm not that brave. They appear to be small plums. Or large cherries. Or beets. Or something else I haven't thought of.
I'm also not sure why they are all three in different stages of decay. One seems perfectly round, one looks a little bruised, and the third looks downright smooshed.
Have a look. What do you think they are?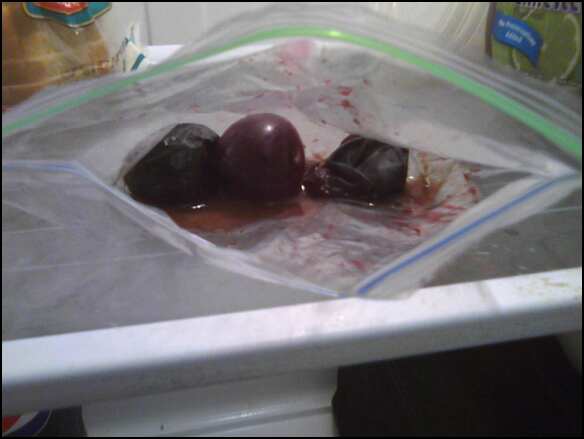 Eddie Daniels, Video Guy
eddie@wjtl.com