 Where Bumper Stickers Touch Lives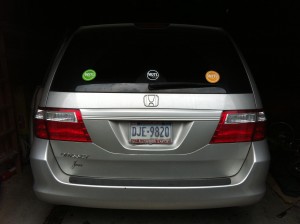 There are many different reasons for wanting to sport the iconic WJTL bumper sticker on your vehicle.  I have heard from many different people that their bumper or static sticker looks great on their car.  Some of the pictures we have received have had some pretty interesting designs.  But these stickers are more than just a fashionable accessory that gives your car character.
Did you know that by showing off your WJTL sticker that you are not only supporting your favorite local Christian radio station, but helping us spread God's word?  By sporting a bumper sticker you are letting others know about WJTL so that they can tune in.  We have heard from people who have seen our sticker on a listener's car, turned their dial to FM 90.3 and their lives have been changed because of it!  If one sticker can do that, think of how many lives even 50 or 100 stickers can touch.
In all honesty, we here at WJTL could broadcast all we want, but it is you, the listeners, who make us a success through your love and support.  God uses your bumper sticker to help us get His message out to more people.  So when you send your bumper sticker in to win, just remember, you are not only entering for a chance to win some great prizes, you are helping to share God's word, just by driving your car!