 7eventh Time Down CD/FitBit Giveaway **UPDATED**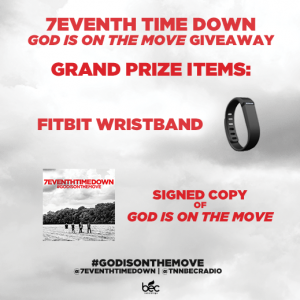 7eventh Time Down's brand new album, God Is On The Move, releases Friday, August 21st! To coincide with this release, we'd like to know how you've seen God move in your life. Did He answer a prayer? Did he bring a friend to salvation? Did He use you to show His glory?
Send an email to contest@wjtl.com by 10AM Friday August 21 explaining how you've seen God move in your life. Be sure to include your name, phone number, and mailing address in your email. One entry will be chosen at random to win an autographed copy of the new 7eventh Time Down CD as well as a FitBit as a reminder that God is always moving to do big things! Eddie will announce the winner during the 5:00 Request Hour on August 21.
*ONLY ONE ENTRY PER HOUSEHOLD. Please make sure your email contains all required information before sending.
*Comments left on this blog DO NOT count as entries into this contest!
**UPDATE**
Congratulations to Diane Bollinger of Mt Joy, winner of the new 7eventh Time Down CD "God is On the Move" as well as a FitBit Fitness Tracker! We asked you for examples of how you've seen God move in your life. Here's what Diane had to say:
"Where do I begin? He has been opening doors for me so much lately, I can hardly keep up! In May I left my job of 2-1/2 years and began nannying for strangers—a time of learning and stretching!
"In June I started with symptoms of two different illnesses– more stretching and dependence on Him. I'm still going through testing but He has proved faithful!
"In July I witnessed 4 children from my 1st & 2nd grade Sunday School class be baptized!!
"God has plainly shown me that He is not done with me and He still wants to use me in spite of me, my illnesses and how I might perceive my value to Him and others.
"God is AWESOME and so FAITHFUL!!!!!!!"
Thanks to everyone who submitted your example of how God is on the move!