 Andrew Peterson/Carrollton Winning Wednesday!!
Singer/songwriter Andrew Peterson is coming to The Junction Center along with Carrollton for The Burning Edge of Dawn Tour on Sunday, May 15th at 7pm at The Junction Center! For more than twenty years, Andrew Peterson has been about the business of quietly changing lives in four-minute increments. "Be King To Yourself", "Dancing In The Minefields", "After All These Years" & "Carry The Fire" are just a few of Andrew's songs that you can hear on WJTL.  Tomorrow is your chance to call in to win tickets to the concert!  Please make sure you are available to attend on Sunday!  717-392-3690
https://www.thejunctioncenter.com/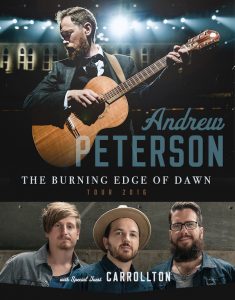 *Caller must not have won from WJTL in the past 30 days.
*Tickets will be available at the door.