 JJ Weeks Band Winning Wednesday!
Happy 4th of July! Tomorrow will be another Winning Wednesday!  Our next concert is the JJ Weeks Band on Sunday, July 9th  at 7pm at The Junction Center / Landis Hall.  Be sure to listen to WJTL tomorrow for chances to call in and win a pair of tickets to see the JJ Weeks Band!  The group earned a Top 10 single with "Let Them See You," a song that remained on Billboard's National Christian Audience Chart for 29 weeks. They have been together for twelve years and their latest studio album, As Long as We Can Breathe was released in April 2016.   717-392-3690 https://www.thejunctioncenter.com/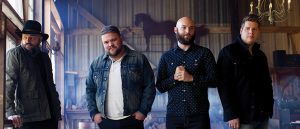 *Caller must not have won in the past 30 days.
*Please make sure you can attend on Sunday, July 9th.