 See You At The Pole Next Wednesday!
ANN D'ALESSANDRO –
See You At The Pole 2016 is coming up next Wednesday, September 28th!  This year's theme is "We Cry Out, A Generation Seeking Him" – Psalm 24:3-6
For the last 25 years, See You at the Pole has been about one simple act—prayer. SYATP is still about students uniting themselves in prayer before God interceding for their generation.
Be sure to listen to WJTL for call-ins from staff in the morning.  You will also have the opportunity to call-in and report on SYATP at your school!  Call the Listener Hotline number at 717-397-8090 and leave a message.  You can find a lot of information about "See You At The Pole; We Cry Out" on their website –
http://syatp.com/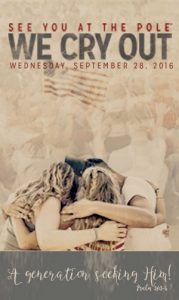 Ann D'Alessandro- Excited for another SYATP!
ann@wjtl.com