 Winning Wednesday with Chris August!
Tomorrow is Winning Wednesday and you'll have chances all day to win tickets to see Chris August! The Pieces Tour with Chris August and Johnny Diaz is coming to Lancaster Bible College on Friday, Oct. 7th! Chris August's song "Starry Night" reached No. 1 on the Billboard Christian Songs chart in 2010/2011. He was nominated at the 2011 Dove Awards in five categories, including Best New Artist and Song of the Year.  "The Maker" is his third studio album which was released last year. You can hear The Maker and He's Still Here from that CD and his new single Pieces on WJTL!   Listen all day for your chance to call in and win!  717-392-3690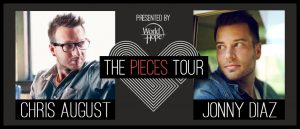 *Callers must not have won in the past 30 days.
*Please make sure you are available to attend on Fri. Oct. 7th before calling.