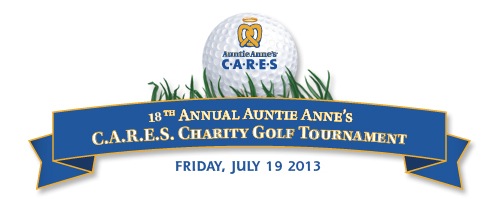 The WJTL Golf Crew will broadcast live from the Auntie Anne's C.A.R.E.S. 18th annual golf tournament on Friday, July 19th.  It will take place at Conestoga Country Club, Meadia Heights Golf Club and Crossgates Golf Club.  Proceeds benefit Alex's Lemonade Stand Foundation, Shades of Greatness and Children Deserve a Chance.  There are still a few openings at the Meadia Heights location in Lancaster for this 4-person scramble.  Registration opens at 6:30 a.m.; start time is 7:30 a.m.  Lunch and prizes are included, plus a celebrity appearance by Philadelphia Eagles All-Pro running back, LeSean McCoy.
Click here for to register or for sponsorship information.
Tune in to WJTL all day long on Thursday, July 11th for golf prize pack giveaways!  Each includes a golf visor, golf balls, Auntie Anne's pretzel coupons and more.  If you win one, you'll be entered into the grand prize drawing.  The big prize (valued at $400) is registration for 4 golfers at the 18th Annual Auntie Anne's C.A.R.E.S. golf tournament (Meadia Heights location).
*You must not have won from WJTL in the past 30 days in order to qualify.
*You must be at least 18 years of age in order to win in this contest.
*Winner will be chosen randomly from all 10 qualifying winners.
*Grand Prize winner will be announced on the Get Up & Go Show Friday morning, July 12th.