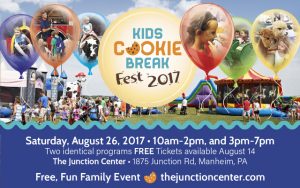 Kids Cookie Break Fest 2017
The 6th annual FREE Festival featuring two identical programs –
Saturday, August 26th – 10am-2pm and 3pm-7pm. 
Kids Cookie Break Fest is absolutely free,
BUT tickets are required and
are available beginning 

TODAY!!!!
(Monday, August 14th)

ALSO
You and your family can have a tasty affordable meal at KCB Fest and help offset the cost of this FREE event. We will have boxed lunches for purchase featuring Chick-Fil-A Sandwiches and Cookies, Turkey Hill Dairy Drinks, Herr's Snacks and Oregon Dairy Fruit.The 6th Annual Kids Cookie Break Fest – with loads of family fun including Inflatable Rides, Petting Zoo, Pedal Cars, Barrel Train Rides, and much more.  This year's entertainment will be in the ALL NEW, AIR CONDITIONED Landis Hall and will be hosted by Lisa Landis. This year's lineup will include performances by  Jim Rule, Chip Richter & The Munks,This Way Up, Phredd, Gretchen & Heidi, & Jesse Rothacker & Forgotten Friend Reptiles.
All tickets for the 10am program are spoken for and there are no more tickets available. There are still Chick-fil-A lunches available for the morning program to purchase for those who have their tickets.
There are still tickets and lunches available for the 3pm program.
Kids Cookie Break Fest 2017 is sponsored by
Turkey Hill Dairy – Ice Cream, Punches & Teas
Funco Entertainment – Inflatable Rides and Attractions
Sight and Sound Theatres – Bringing the Bible to Life
Herr's Snacks – Chips, Pretzels & More