 Among the Thirsty Prize Pack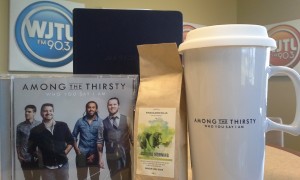 Tomorrow during the drive home, I will be chatting with Ryan Daniel of Among the Thirsty about their new album, "Who You Say I Am". In conjunction with the interview, the band would like to give away a prize pack designed to encourage you to sit and reflect on God's truth of who He says You are.
I'ill be talking with Ryan in the 3 o'clock hour tomorrow (Mar 19 2015) and sometime in the hour I'll also be giving away the prize pack which includes a copy of the CD, an Among the Thirsty journal, a travel mug, and a 2.5-oz bag of coffee from Land of a Thousand Hills whose proceeds go to providing clean water in Africa.
Tune in to hear the interview and keep our phone number handy so you can call in and try to win! (717-392-FM90).