 On Fire for "The Good News" Contest!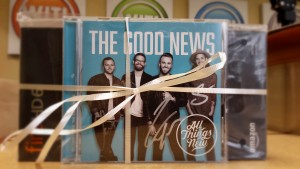 All Things New's brand new album The Good News, featuring their single "Can't Hold Me Down," released September 25th, and we're on fire for their new music! In fact, we're celebrating by giving away the new Amazon Fire HD6 and copies of the album courtesy of Tooth and Nail/BEC Recordings!
Tune in Monday, Tuesday, and Thursday (October 5, 6, & 8 2015) for your chance to call in and win a copy of the All Things New CD The Good News and qualify to win the Grand Prize! We'll be announcing the winner of the grand prize this Friday, October 9, on the Get Up and Go Show! Be sure to keep our number handy: 717-392-FM90!
RULES:
*You must not have won from WJTL in the past 30 days in order to be eligible for this contest.
*Only one contestant per household in this contest will be permitted.