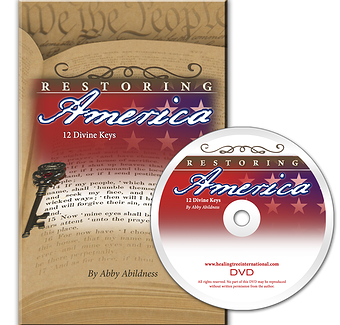 When you comment on our blogs this week, you'll automatically be entered to win this Feedback Giveback prize: the Book & DVD set, "Restoring America" by local author, and America For Jesus 2012 National Prayer Coordinator,  Abby Abildness!  Click here to view and sign the Restoration Proclamation!
About the Book & DVD:
The United States Constitution begins with the words, "We the People, to form a more perfect union, establish justice, and ensure domestic tranquility…" The United States of America has a unique created purpose to be a haven of freedom and justice for all as a holy example to all the nations on the earth.
Restoring America provides 12 Divine Keys to restore our great nation to its created purpose as One Nation Under God. The United States was founded on godly principles that gave us a national heart to be a God-honoring nation. America is at risk of losing our liberties and our redemptive call to be that ray of hope to protect liberties for the nations!
This Book/DVD set will guide you in understanding God's purposes for America and in praying for the restoration of those purposes. With each chapter there is a corresponding short teaching video. Gather your prayer groups and commit to praying these keys to unlock God's promises for America!