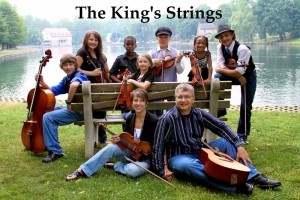 The King's Strings from Mechanicsburg, PA is a family of musicians that enjoys putting smiles on the faces of its listeners. Since their debut in 2004, they have been bringing those smiles to retirement communities, birthday and anniversary celebrations, fund-raisers, and company Christmas dinners. They have played all over their home state of Pennsylvania, west to Ohio, east to the Chesapeake Bay area and south to Florida. In 2008 they were thrilled to entertain the guests of Pennsylvania's Governor Ed Rendell at his annual Holiday Open House. This past fall they played the National Anthem for the Harrisburg Senators baseball team.
The King's Strings will appear at Penn Cinema for a special event on Thursday, November 15th.  The Adoption Coalition of Lancaster County (ACLC) is sponsoring a free Movie Night at Penn Cinema on Thursday, November 15, beginning at 6 p.m. Held in conjunction with National Adoption Awareness Month, the event aims to help raise awareness of the need for foster and adoptive families. Attendees can view one of two recent adoption-themed movies-The Blind Side or Meet the Robinsons.  Click here for all the info!
Tune in to WJTL for giveaways of the CD "Fiddlin' Around With The King's Strings"!  DJs will give the on-air cue for listeners to call 717-392-3690.  The CD is also our Feedback Giveback prize for the week!  Whenever you leave a comment at our blogs at www.WJTL.com, you'll automatically be entered to win it!
[tubepress video="HfMTIAvyzCg"]
The King's Stings recently appeared on WJTL.  Listen to the interview and live music here.  Or click here to go to WJTL's videos page, where you can view several videos featuring The King's Strings!