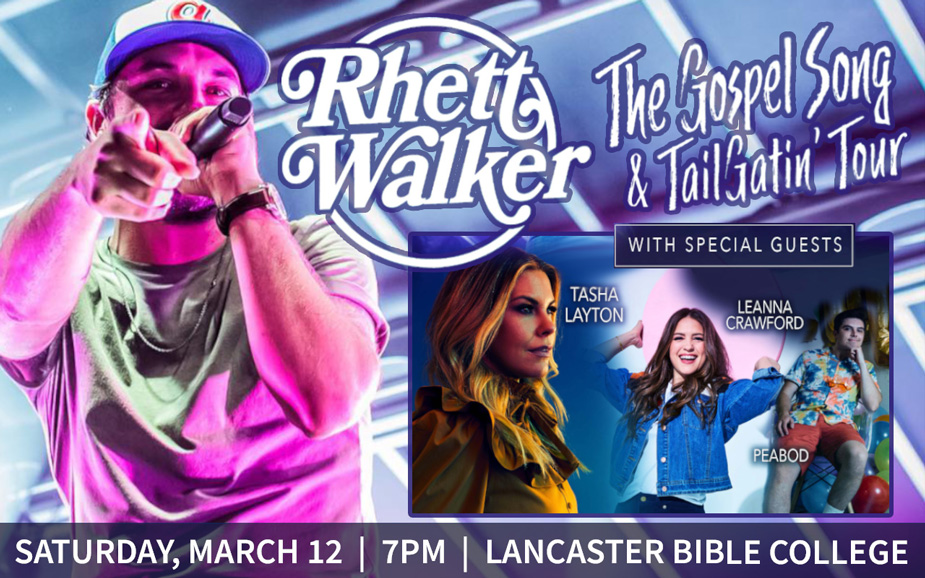 The Gospel Song & TailGatin' Tour
featuring Rhett Walker and special guests
Tasha Layton, Leanna Crawford, and Peabod
is coming to Lancaster Bible College
on Saturday, March 12th.
Rhett Walker has had a big 2021 with a top 5 single with "Gospel Song" and had a new EP which released in late August!  With hits like "Believer," "Come to the River," "When Mercy Found Me," and many more, you're sure to know and be able to sing along with many of Rhett's songs!
Tasha Layton has had a top 5 song in 2021 with "Look What You've Done" and also radio success with "Into The Sea (It's Gonna Be Ok)." Coming off a tour with Ryan Stevenson in Fall 2021, and the release of a Christmas EP in late October, Tasha is ready to hit the road with her friends on this tour!
Leanna Crawford has just finished up a busy tour this fall with author Lysa Terkeurst, and also released a new radio single this year called "Mean Girls." That single followed up the release of her sophomore, self-titled EP in 2020 with popular songs like "Truth I'm Standing On." Leanna is excited to tour with her label-mate Rhett this spring!
Peabod  is a "hip-pop" artist from the Northwest who records "happy hip-hop" and has put out several projects including a full-length album in 2018 called Healthy Snacks and two EP's in 2019 & 2020 called Backpack and Growing Up, Pt.1.  While working on new music for 2022, he brings fun and entertainment wherever he goes!
As you can see, there will be a lot of talent on stage each night and several collaborative moments, but most importantly, each Artist's goal is to point people towards Christ and the hope & healing He gives.
Listen Winning Wednesday, February 2nd 
for your chance to win a pair of tickets to this show!
Keep our number handy 717-392-3690.