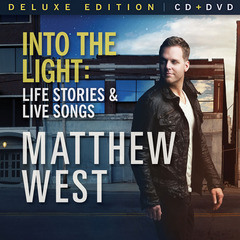 Click here to buy it now on iTunes.
Matthew West is releasing a deluxe CD+DVD combo this week called "Into The Light".  It features stories behind the songs and LIVE performances from Matthew!
Listen to WJTL this week for chances to win Matthew West's new "Into The Light" Deluxe combo…plus, we have a few other giveaways up our sleeve: "Hello My Name Is" tumblers, Matthew West's new book "Forgiveness" and some of his other CD ("History", "Something To Say" and "The Story Of Your Life".)
DJs will let you know when it's time to call in and win.  Giveaways will happen Monday – Friday, August 12-16 from 6AM-10PM.  You may want to put us on speed dial: 717-392-3690 (392-FM90).
Categories:
News, Promo
book, capitol records, CD, cmg, deluxe, dvd, Forgiveness, hello my name is, into the light, live performances, Matthew West, story behind, tumbler, win