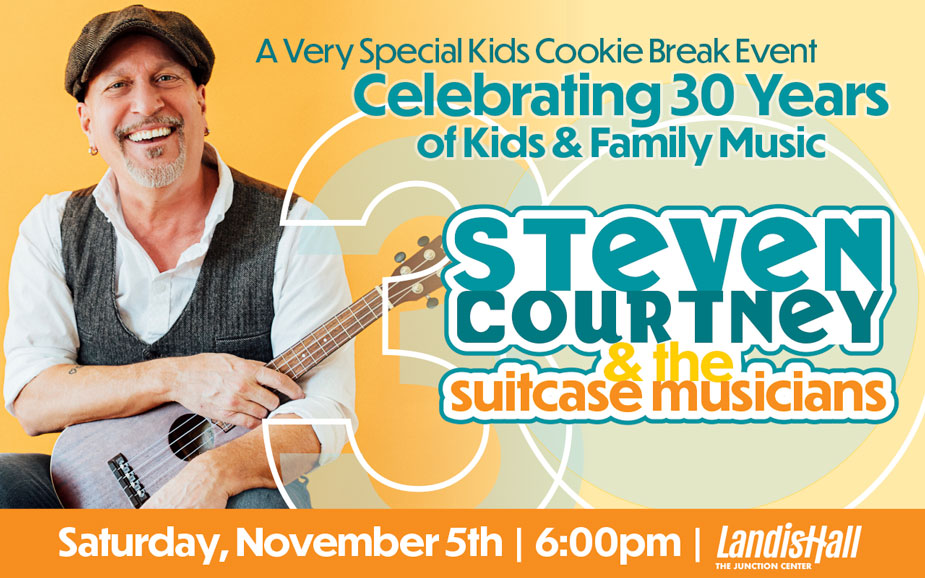 Junction Center Productions Presents:
Steven Courtney & The Suitcase Musicians
Saturday, November 5th @6:00pm
Landis Hall at The Junction Center
***
A Very Special Kids Cookie Break Event…
Celebrate 30 Years of Kids and Family Music with Steven Courtney & The Suitcase Musicians
Plus special guest Creative Pursuits Children's Choir

A leading light in children and family music, Steven Courtney is virtually synonymous with a fun, upbeat and humorous style of song and storytelling. Born in Nashville, TN and raised on country, folk and gospel music, Steven initially launched his musical career performing covers of 60's and 70's folk rock tunes and performing original songs as well. Later his greatest success began when he directed his performances and recordings toward children and families in the early 90's. In the ensuing decades, Steven Courtney would go on to perform 200 plus concerts a year as well as produce numerous award winning children and family albums and the award winning TV Series -The Steven Courtney Channel. All the while Steven Courtney has been an advocate of literacy, positive social behavior and family wellness.
Everyone in attendance will receive an exclusive 30 Years of Steven Courtney Commemorative Poster.
Bring a gently used children's book to donate to the Manheim Community Library.