Shine Bright Baby releases their debut album this week!  (Release day: Tuesday, July 23.)  Listen to WJTL all week long for your chance to win one of their new CDs.  If you win one, you'll also be entered to win the grand prize!
One person will win: a Limited Edition Shine Bright Baby Lamp plus a Shine Bright Baby T-shirt, poster and glow-in-the-dark wristband!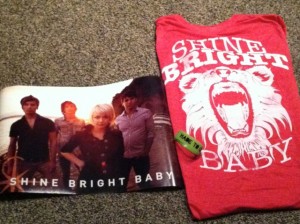 In the mean time, here's their music video for their first single "Beautiful Love"!  Enjoy!
[tubepress video="lSUXV5qlfLA"]
Rules, etc.:
*You must not have won from WJTL in the past 30 days in order to be eligible.
*Only one winner per household in this contest.
*Grand prize winner will be randomly selected from all qualifying entries.  Announcement will be in the 5:00 p.m. hour on Friday, July 26, 2013.
*Keep our number handy: 717-392-3690 (392-FM90)